The Apartments
2 and 3 bedroom apartments with spacious private balconies or terraces looking out to Newland Park's stunning woodland surroundings. Interiors are infused with thoughtful details and luxurious finishing touches. Apartments include private underground parking, onsite concierge, lift to all floors and integrated security features.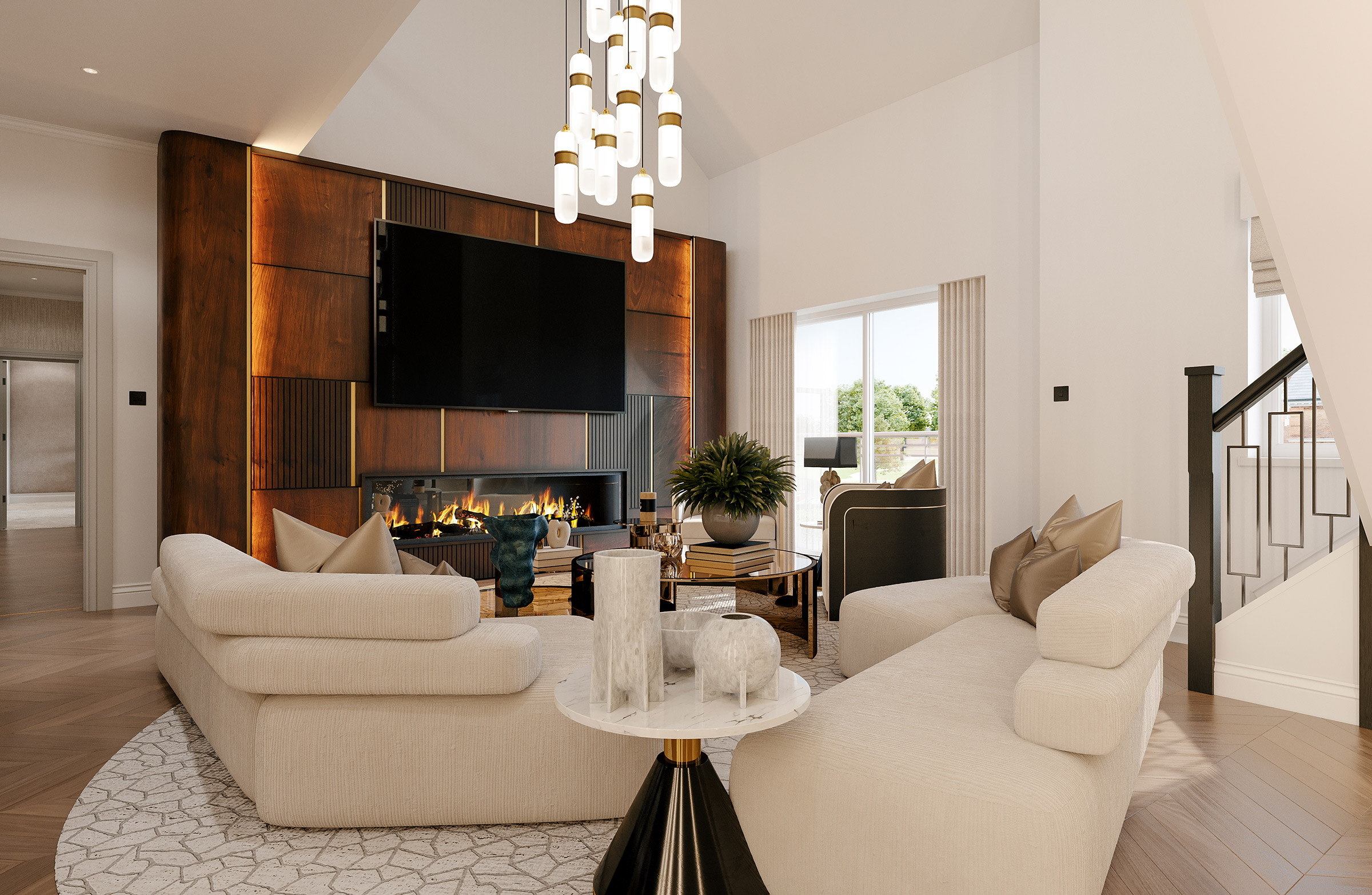 Duplex Living Area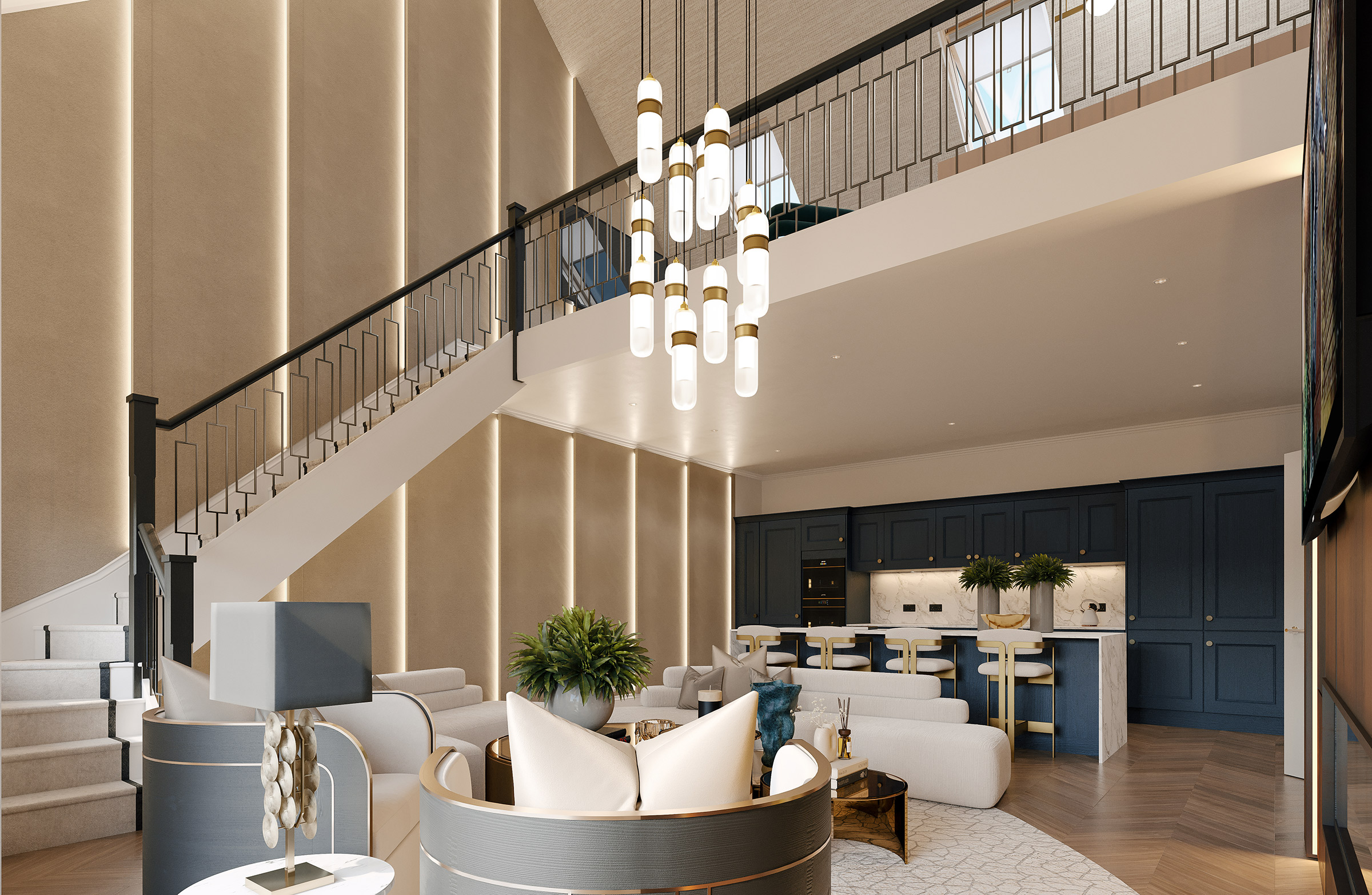 Duplex Living/Kitchen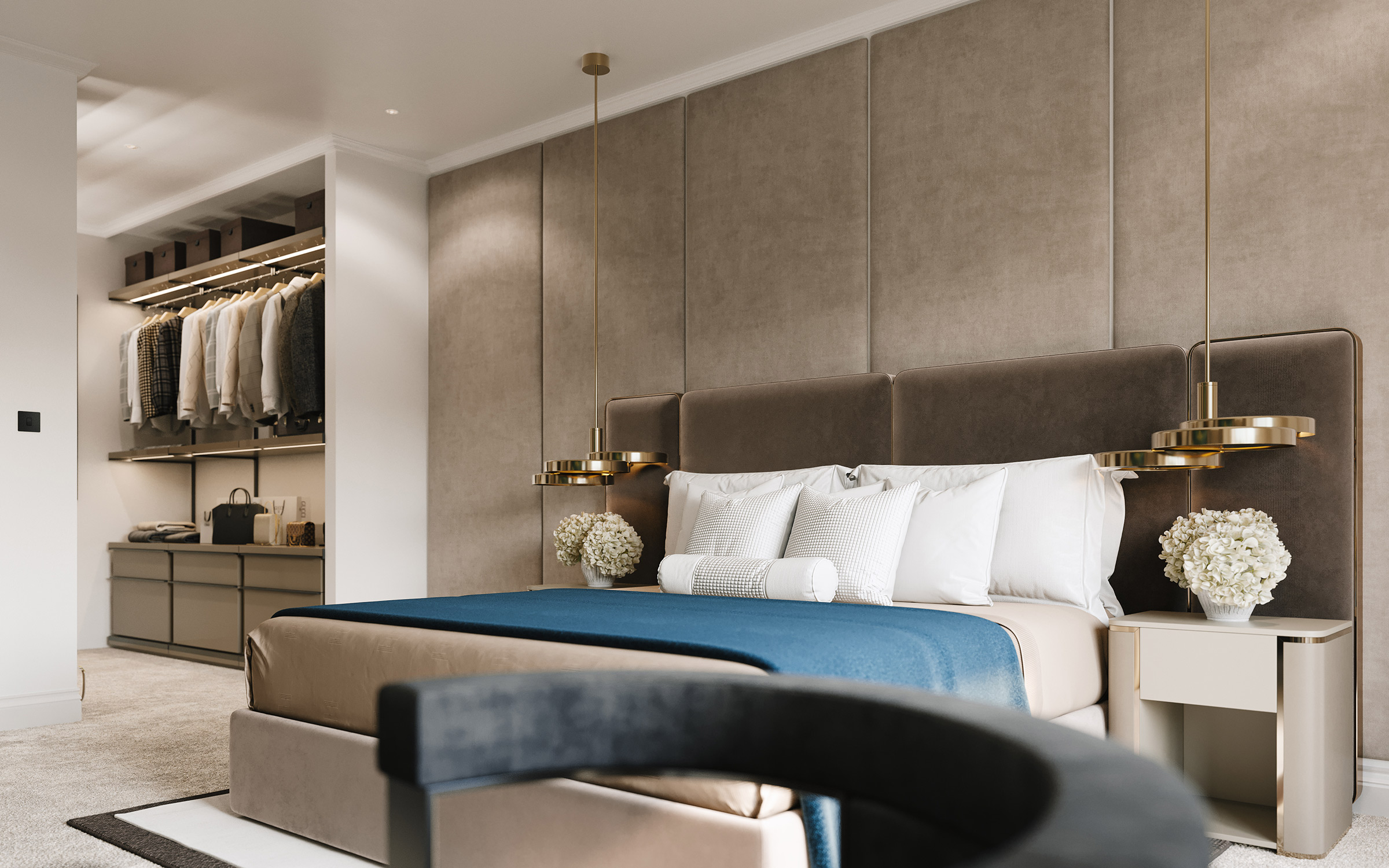 Duplex Bedroom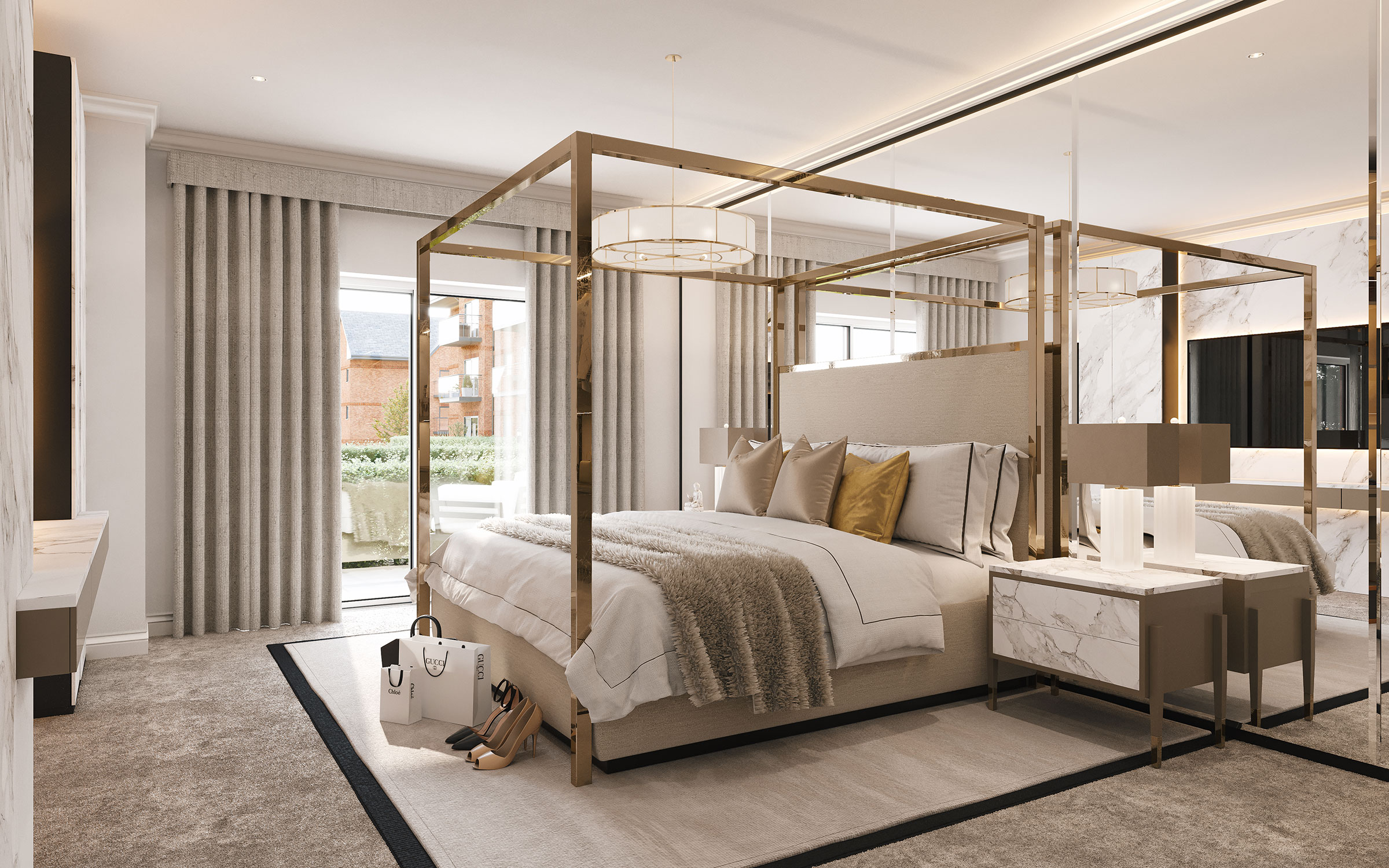 Master Bedroom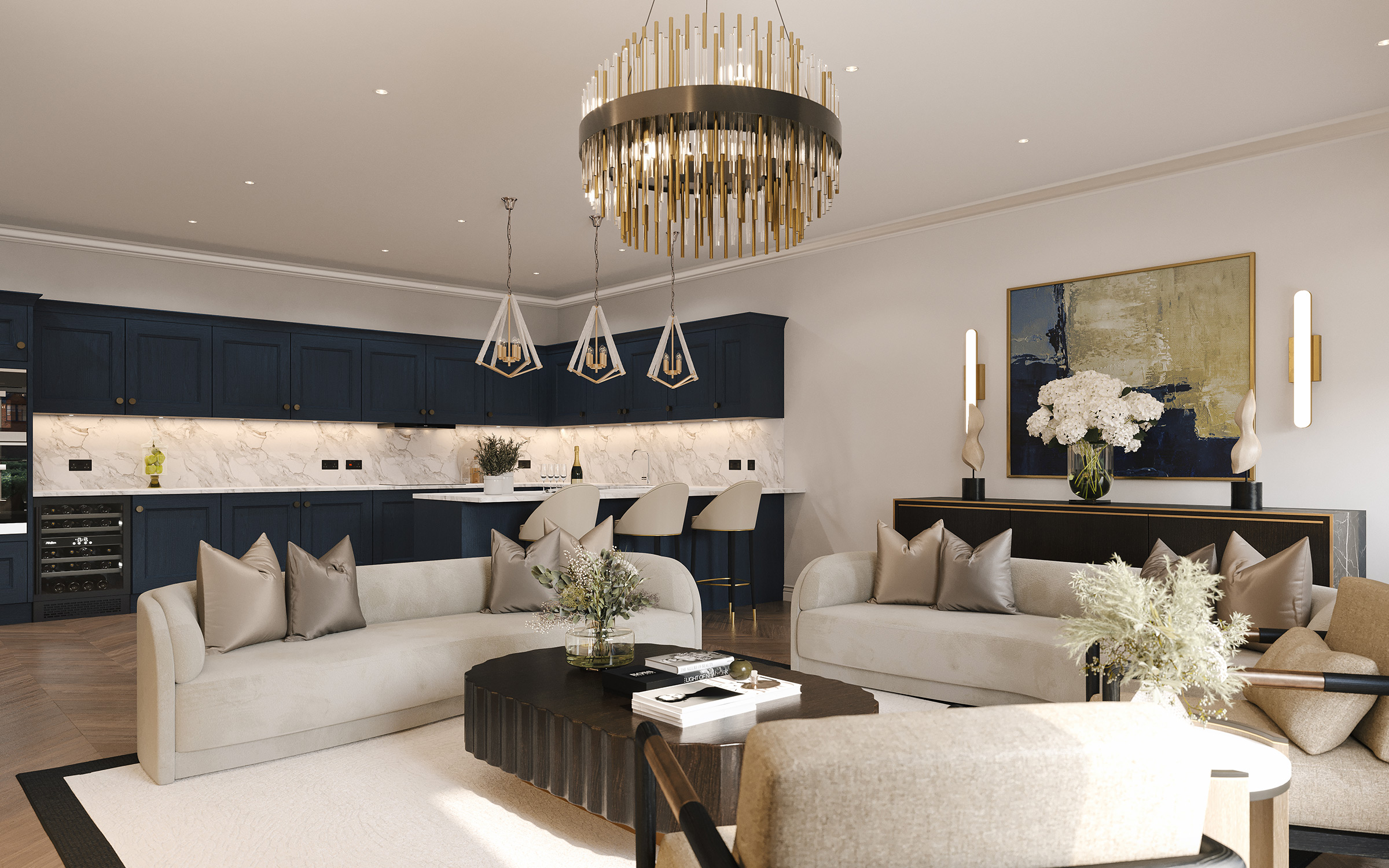 Kitchen Area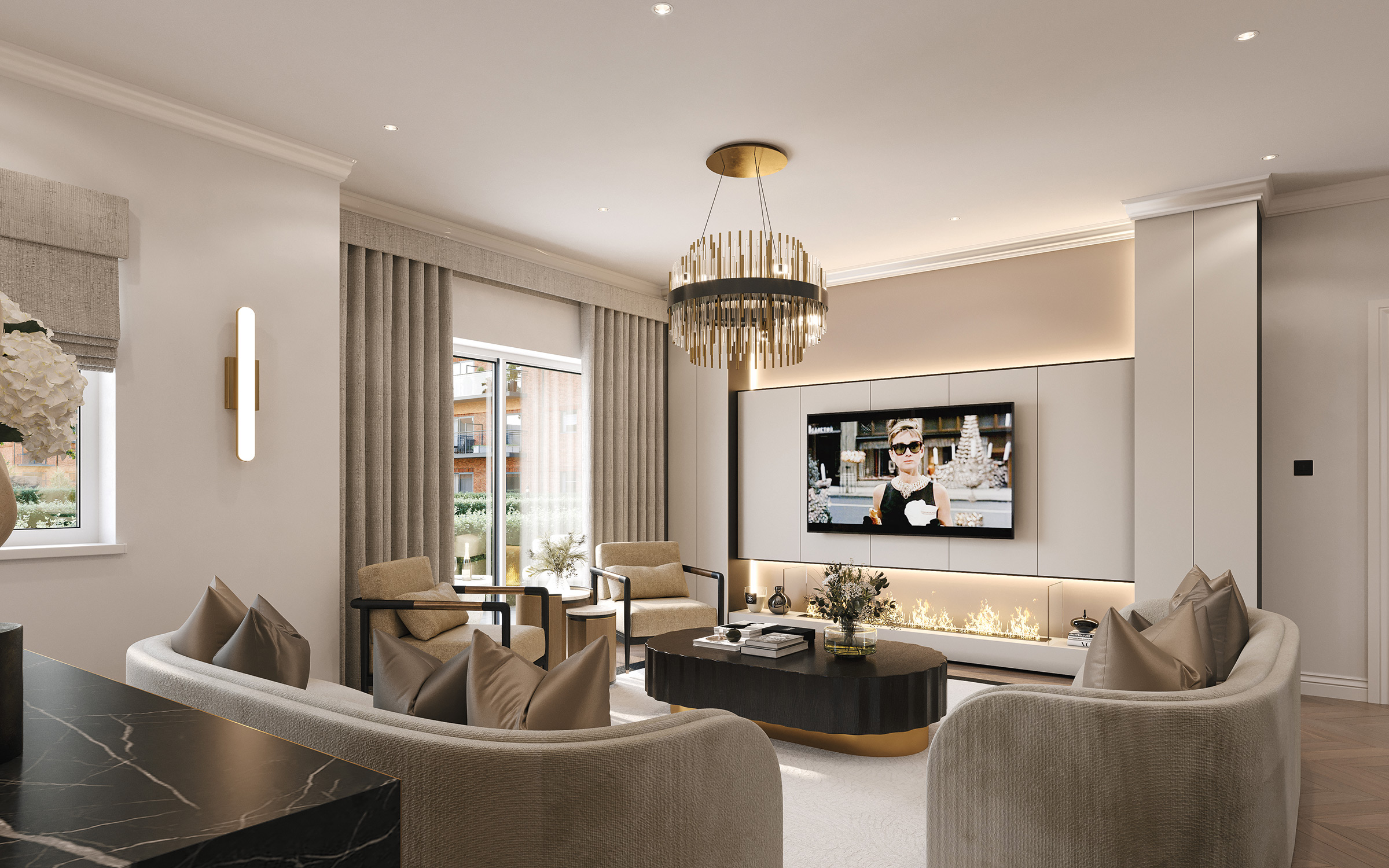 Living Area
KITCHENS
– Hacker/ solid ash hand painted shaker kitchen units in light grey (Bristol), handled with soft close doors and drawers
– Island unit in velvet blue to all duplex apartments
– LED under-wall cabinet lighting
– Marble-effect (Calacatta Grey) quartz kitchen worktop and upstand
– Bronze or brushed chrome stainless-steel knobs and pull handles
– Blanco chrome kitchen sinks
– Reginox monobloc mixer tap in chrome
– Integrated appliances including Miele hob, Miele oven and microwave, Siemens dishwasher and Siemens fridge/freezer
– Miele extractor hood to selected apartments
– Bora hob recirculating downdraft extractor to selected apartments
– Caple undercounter wine cooler to selected apartments
– Separate Miele washing machine and Miele spin dryer placed in utility room
BEDROOMS
– Walk-in wardrobes in walnut with LED under-wall cabinet lighting
– Built-in wardrobes with hanging rails and drawers in white
BATHROOMS & ENSUITE
– White sanitaryware throughout
– Renaissance Mirage bath
– Tippo luxury bath panel (to match vanity unit)
– Tippo luxury bespoke design vanity unit with basin
– Hansgrohe mono basin mixer tap in brushed brass to selected apartments
– Hansgrohe shower arm and head in brushed brass to selected apartments
– Built-in recess for shower vanity items
– Bath, shower control, shower arm and head in brushed brass
– Glass bath screen and shower doors
– Low profile shower tray
– Chrome heated towel rail
– Chrome downlights
– Vent Axia extractor fan
– Porcelain polished tile on walls
– Porcelain matt tile on floors
– Porcelain wall tiles finished with brass edge trim to selected apartments
– Polished round edge fitted mirror
HEATING & COOLING
– Underfloor heating system throughout
– Joule Exhaust Air Heat Pump
– Joule unvented cylinder
– Thermostat in each room
FLOORING & DOORS
– Rectified porcelain dark oak effect in herringbone-style finish to all hallways, living areas and kitchens
– Sensations velvet nylon 15mm 100% polypropylene carpet in grey to bedrooms
– Porcelain floor tiles to bathroom
– Porcelain tiled communal hallways
– Mid grey carpeting to communal corridors
– Grey panelled front door
– White panelled internal room doors with chrome ironmongery
ELECTRICAL
– Heritage Range electrical fittings in brushed chrome throughout
– Recessed ceiling lights to kitchen/living areas
– Low profile power sockets in brushed chrome
– Wired for both BT Openreach and Sky
– SkyQ to living area and bedrooms
– Door entry and access control system to each apartment
– Data points to all rooms
– USB points in living area and all bedrooms
GENERAL
– Multi-point locking system fitted to all entrance doors
– Paving slabs to balconies
– Concealed sprinkler system
– Triple glazed windows dual finished in anthracite and white with chrome ironmongery
– Otis passenger lifts
– Heritage style DW Windsor street lighting throughout the development
– Uplighting to main buildings
– Post box and parcel drop to entrance lobbies
– Private gated development with 24 hour concierge
– 24 hour security with CCTV throughout the estate and at entry points to each apartment block
– Communal landscaped gardens
– Tobermore Fusion granite paving and kerbs throughout the development
– Resin bond finish to pathways
– Underground and overground car parks
– Designated visitor parking
– Designated resident car parking
– Designated above ground electric car charging parking bays
The Houses
These three/four bedroom house are a refreshing new twist on a traditional Chilterns home. Each of these characterful houses enjoys generous outdoor spaces, designated parking and integrated security features for peace of mind.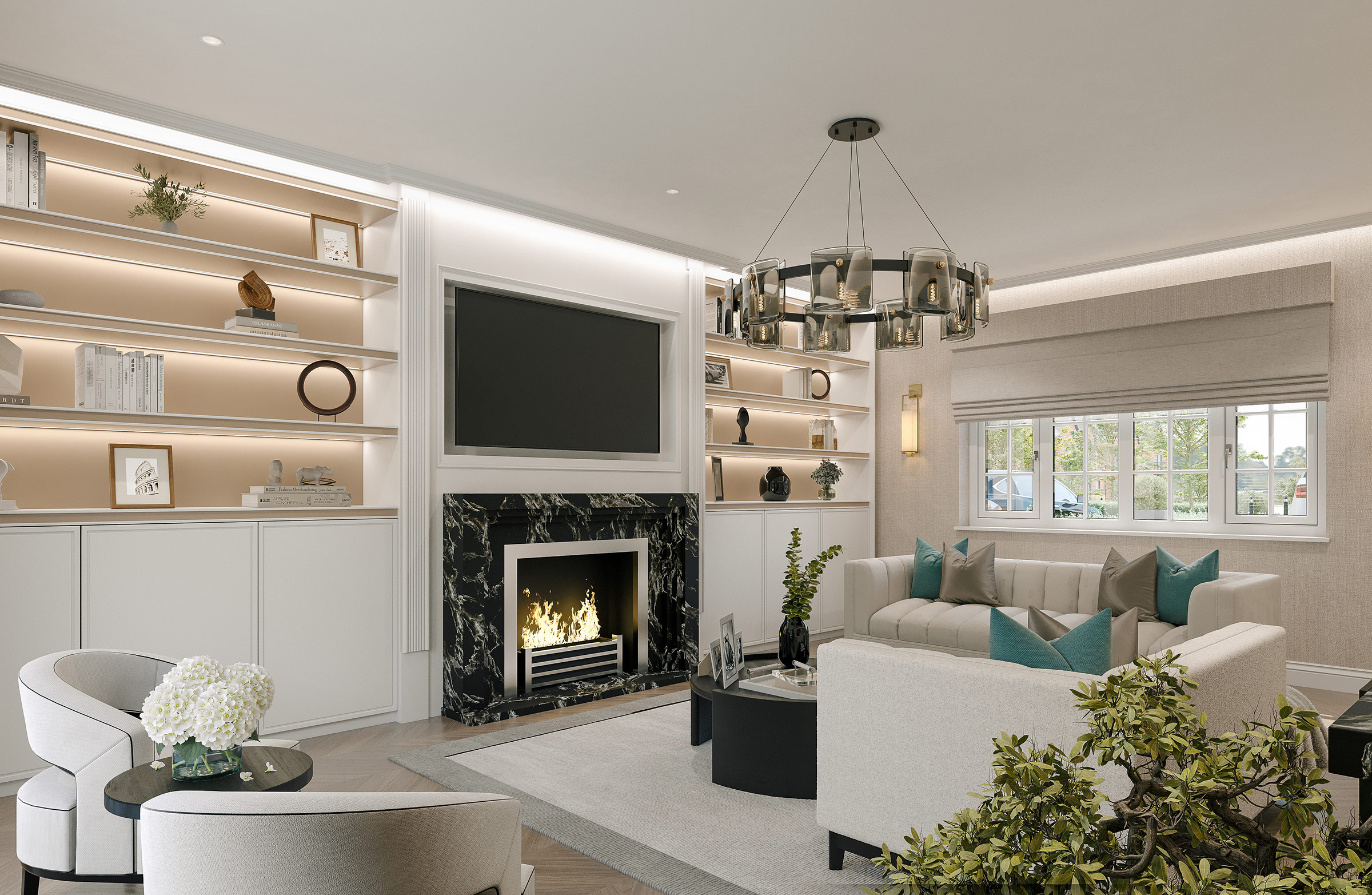 Living Area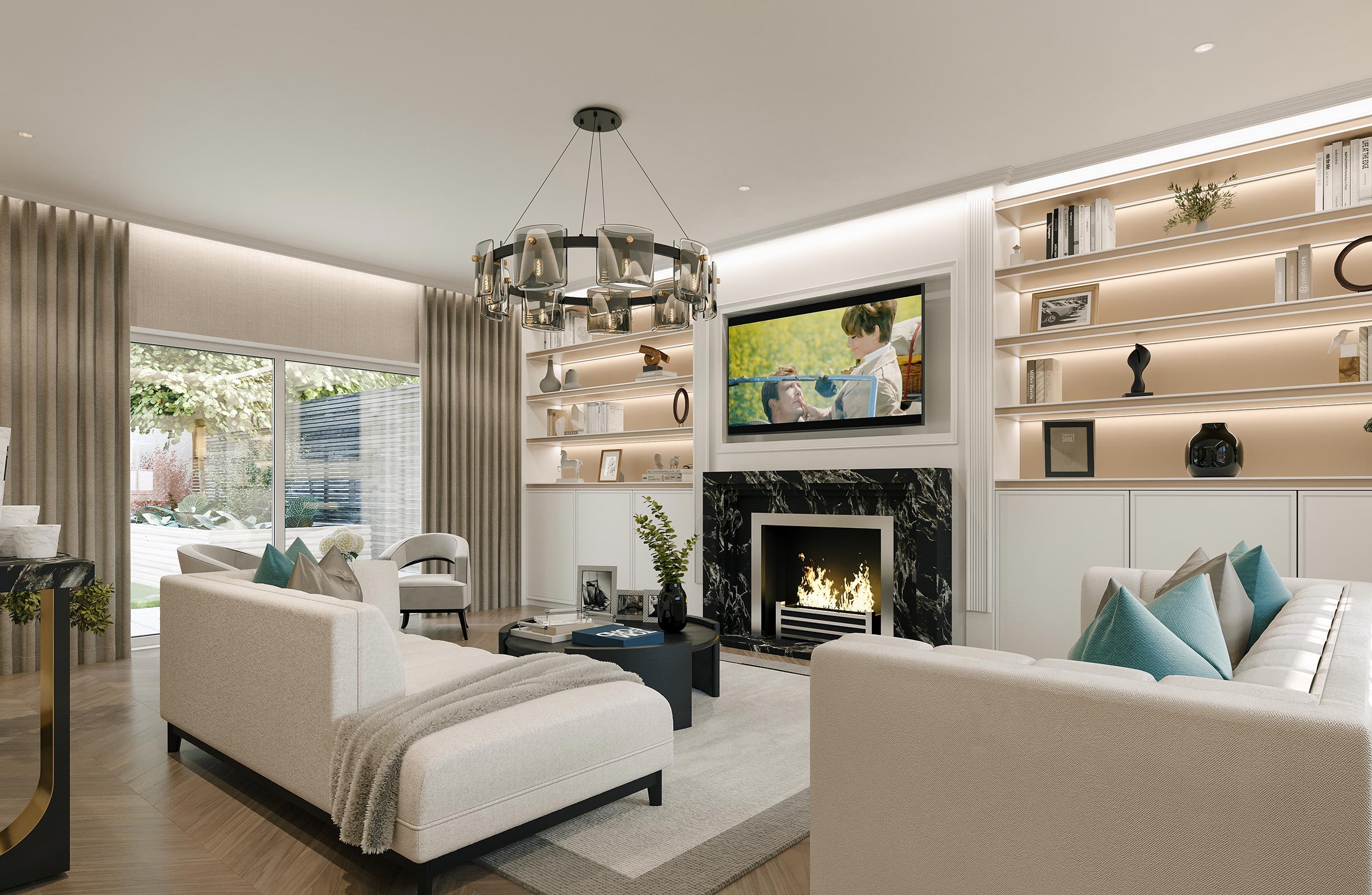 Living Area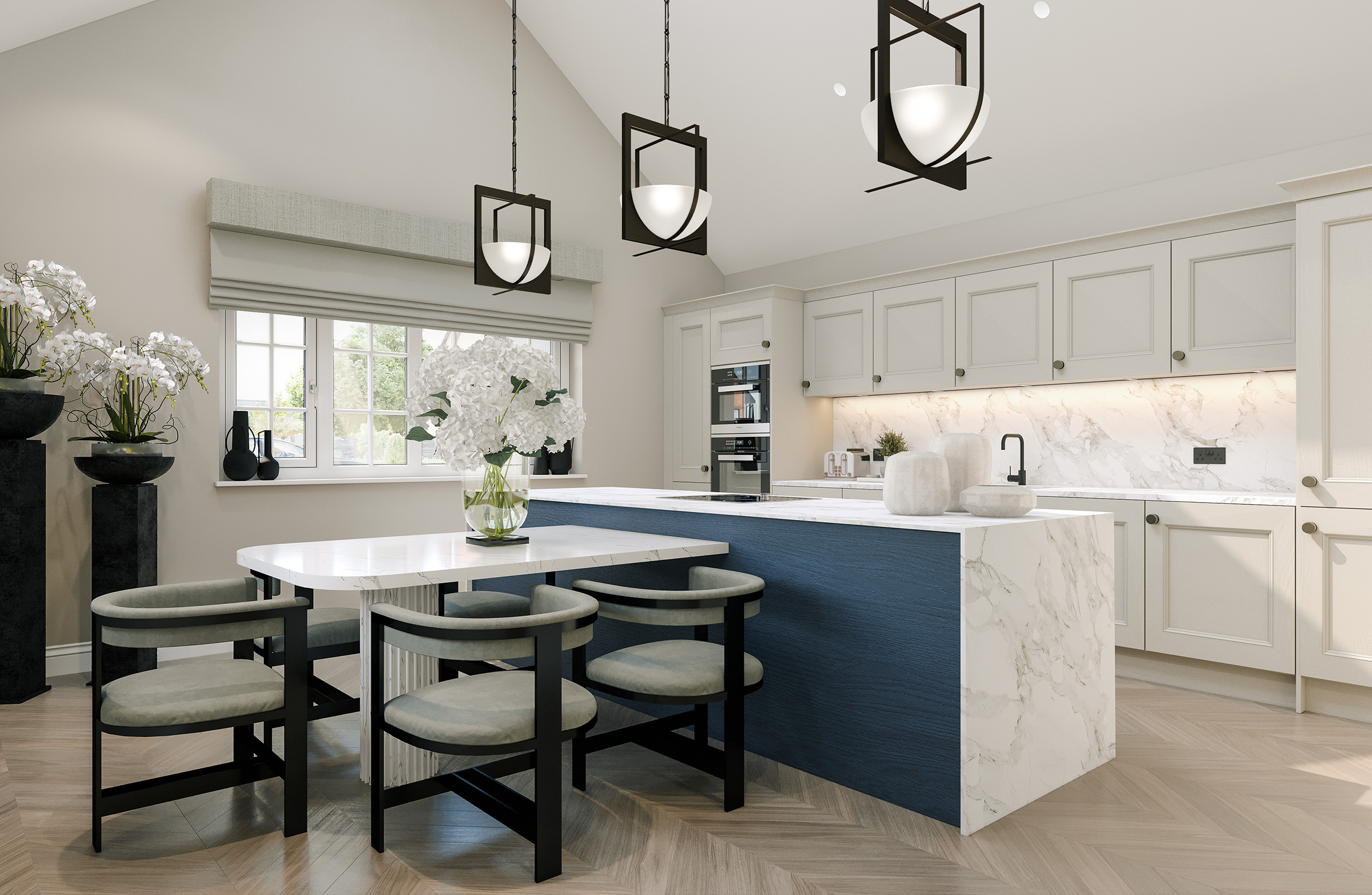 Kitchen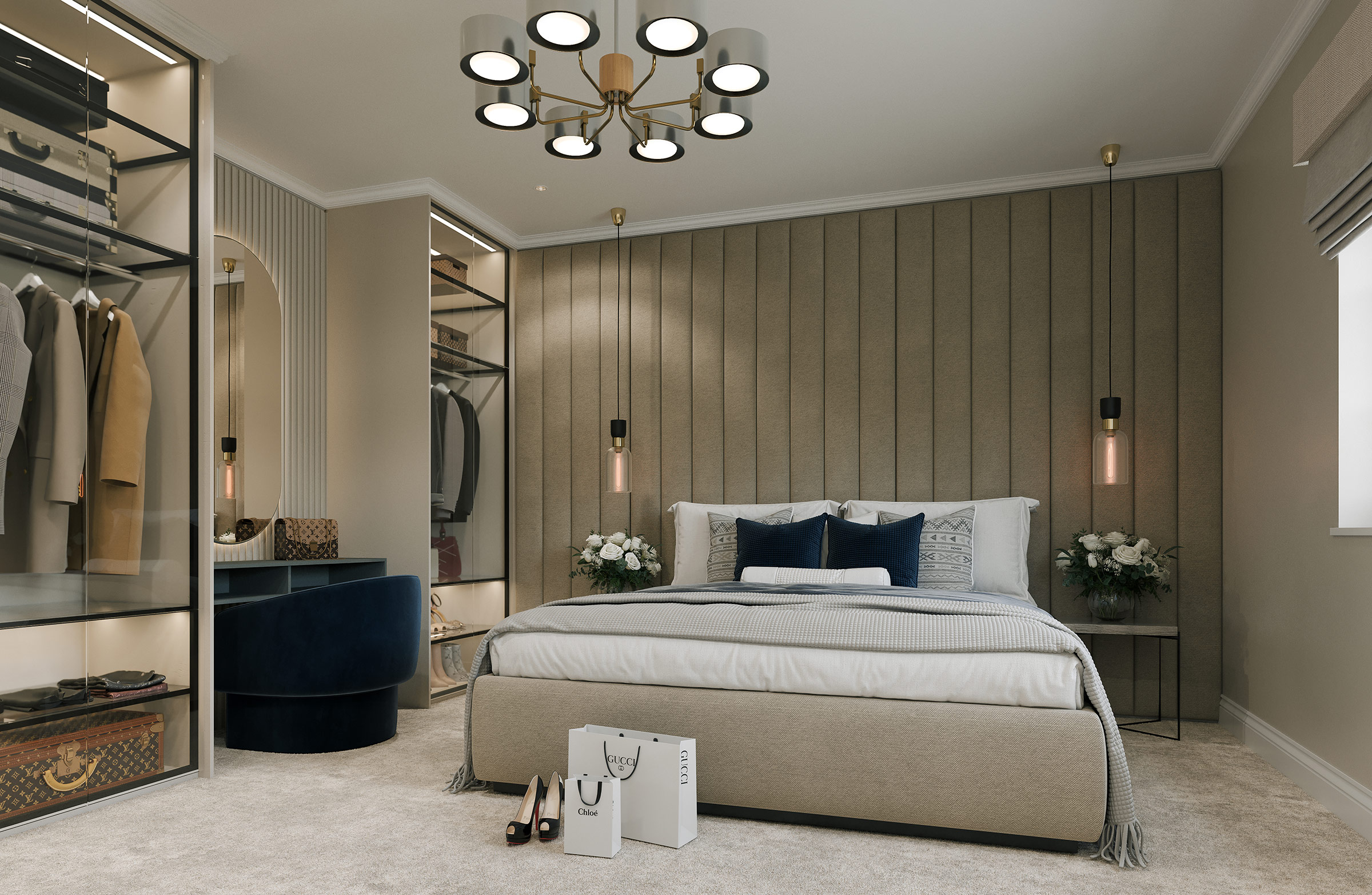 Master Bedroom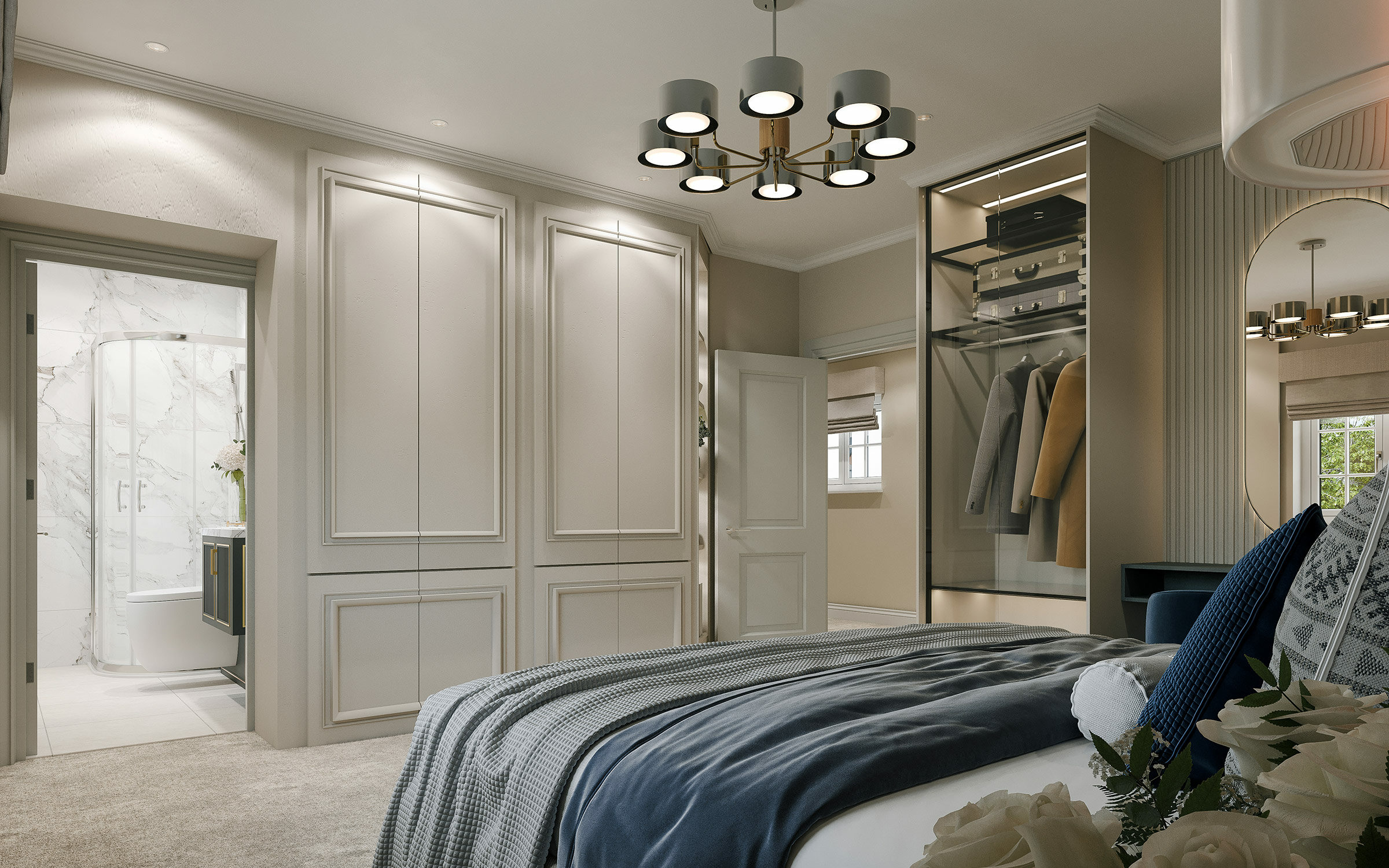 Master Bedroom & Ensuite
KITCHENS
– Hacker/ solid ash hand painted shaker kitchen units in light grey (Bristol), handled with soft close doors and drawers
– Island unit in velvet blue
– LED under-wall cabinet lighting
– Marble-effect (Calacatta Grey) quartz kitchen worktop and upstand
– Bronze or brushed chrome stainless-steel knobs and pull handles
– Blanco chrome kitchen sinks
– Reginox monobloc mixer tap in chrome
– Integrated appliances including Miele hob, Miele oven and microwave, Siemens dishwasher and Siemens fridge/freezer
– Bora hob recirculating downdraft extractor
– Caple undercounter wine cooler
– Separate Miele washing machine and Miele spin dryer placed in utility room
BEDROOMS
– Walk-in wardrobes in walnut with LED under-wall cabinet lighting
– Built-in wardrobes with hanging rails and drawers in white
BATHROOMS & ENSUITE
– White sanitaryware throughout
– Renaissance Mirage bath
– Tippo luxury bath panel (to match vanity unit)
– Tippo luxury bespoke design vanity unit with basin
– Hansgrohe mono basin mixer tap in brushed brass
– Hansgrohe shower arm and head in brushed brass
– Built-in recess for shower vanity items
– Bath, shower control, shower arm and head in brushed brass
– Glass bath screen and shower doors
– Low profile shower tray
– Chrome heated towel rail
– Chrome downlights
– Vent Axia extractor fan
– Porcelain polished tile on walls
– Porcelain matt tile on floors
– Porcelain wall tiles finished with brass edge trim
– Polished round edge fitted mirror
ELECTRICAL
– Heritage Range electrical fittings in brushed chrome throughout
– Recessed ceiling lights to kitchen/living areas
– Low profile power sockets in brushed chrome
– Wired for both BT Openreach and Sky
– SkyQ to living area and bedrooms
– Data points to all rooms
– USB points in living area and all bedrooms
GENERAL
– Multi-point locking system fitted to all entrance doors
– Paving slabs to balconies
– Concealed sprinkler system
– Triple glazed windows dual finished in anthracite
and white with chrome ironmongery
– Heritage style DW Windsor street lighting throughout the development
– Uplighting to main buildings
– Private gated development with 24 hour concierge
– 24 hour security with CCTV throughout the estate
– Communal landscaped gardens
– Tobermore Fusion granite paving and kerbs throughout the development
– Resin bond finish to pathways
– Underground and overground car parks
– Designated visitor parking
– Designated resident car parking
– Designated above ground electric car charging parking bays